Ekwato COLLECT : secure documentary collection.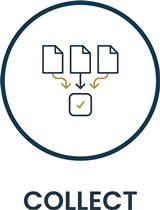 Ensure compliance of the collection of documents from your timber supply chain.
Do you know the exact day-to-day situation of the collection of documents resquested to your suppliers, documents not received, those that you have validated and those that you have identified as non-compliant?
Are you tired of re-contacting your suppliers to collect the documents essential to your internal purchasing policy or as part of the regulatory application of your Due Diligence System?
Do you waste time finding the thread of emails exchanged on all the non-compliant documents of your various suppliers?
Do you really know the cost of wasted time on administrative tasks to collect documents and continuously update them?
Ekwato COLLECT : the basic module to manage, drive and monitor the collection of documents requested to your suppliers.

Automatic update:
– Alerts on new documents submitted by your suppliers.
– An automatic reminder sent to the supplier if the document has not been uploaded within a defined period.
– A discussion thread with the supplier for each document (dialogue).
– Automatic update with your suppliers.
– Compliance ensured by continual monitoring of documents according to the expiry date.

Reporting:
– A document collection monitoring dashboard (global and by supplier).
– Statistics on emails and reminders sent to suppliers.

Easy:
– The SaaS solution, easy to integrate into your IT infrastructure.
– Easy to learn: simpler and more ergonomic than a spreadsheet or an ERP!
– Interoperability with your ERP through an API (Application Programming Interface).
– Consult the dashboards and alerts to help you take action.

Secure:
– The architecture of the servers set up for the EKWATO tool guarantees a permanent backup, whatever the risk (including geographic).
– Documentation uploaded to the EKWATO platform can never be accessed by an Internet browser. Thanks to a specific controller integrated into the software, only the EKWATO process can read the document via a secure URL, modifiable over time, which verifies that the current person has the necessary rights to perform the download.
– Hosted in France.

Accessible:
– The SaaS solution: multi-workstation and multi-site.
– Multilingual (French, English, Spanish): document requests are sent in the language of your suppliers, and access to the platform for your suppliers is in their language.
– Opening of a free and secure account for each of your suppliers.
Ekwato COLLECT: benefits for users.

✔  Quick and real-time view of the document collection situation for each of your suppliers and your documentary compliance.

✔  Time savings for your teams who can invest their efforts in other activities with higher added value.

✔  Dashboards continuously updated and accessible for your users regardless of their location (internal, teleworking, multi-sites, international).

✔  One more step towards the responsible management of your supply chain.
Ekwato 360: do you want to benefit from the full power of Ekwato automation?
Subscribe to the 360 subscription, which brings together the COLLECT, SHARE & RISK modules: get more benefits and a reduction!